First Degree Murder charges laid as police investigate death in Sioux Lookout
Tim Brody - Editor
Two Sioux Lookout residents have been charged with First Degree Murder in relation to the death of a 40-year-old Sioux Lookout resident.
Ontario Provincial Police shared in an August 12 media release that, "On August 11, 2023, members of the Sioux Lookout OPP Detachment, along with Northwest Emergency Medical Services (EMS), responded to an incident in the Municipality of Sioux Lookout where an individual was pronounced deceased. The death is being treated as a homicide.
"The victim has been identified as Adrianna Bottle, age 40, of Sioux Lookout."
A post-mortem examination is to be conducted at the Centre of Forensic Sciences in Toronto to determine the cause of death.
Police shared in an August 14 media release, "As a result, Allen Yerxa, age 36, and Erin Gray, age 21, both of Sioux Lookout have been arrested and charged with First Degree Murder, contrary to Section 235 (1) of the Criminal Code. Yerxa has been further charged with Trafficking a Schedule I Substance contrary to Section 5 (2) of the Controlled Drugs and Substances Act."
Both accused individuals were remanded into custody and were scheduled to appear before the Ontario Court of Justice in Sioux Lookout on August 14.
An ongoing investigation is being conducted by the Sioux Lookout OPP Crime Unit, under the direction of the OPP Criminal Investigation Branch, in conjunction with the OPP Forensic Identification Unit, the Office of the Chief Coroner for Ontario and Ontario Forensic Pathology Services.
"Investigators do not believe there is an imminent threat to public safety in relation to this investigation; however, the OPP reminds members of the public to be aware of their surroundings and report any suspicious activity to police," police shared.
Anyone with information regarding this investigation is urged to contact the OPP at 1-888-310-1122. People can also provide information anonymously by contacting Crime Stoppers at 1-800-222-8477 (TIPS).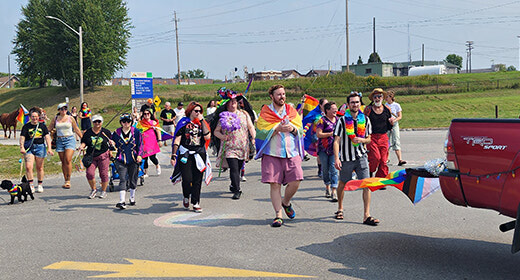 Wednesday, August 16, 2023
Community members and visitors to town were invited to show their support on August 5 and join 2SLGBTQIA+ community members for a parade through Sioux Lookout's downtown, from the Municipal Office to Farlinger Park (Town Beach)...