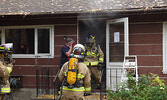 Firefighters hone skills in recent training exercise
Tim Brody - Editor
A home in town scheduled for demolition gave firefighters in Sioux Lookout an opportunity to hone their skills.
The home, which was filled with smoke courtesy of the Sioux Lookout Fire Department's smoke machine, gave firefighters an opportunity to practise firefighter search and rescue, occupant search and rescue, roof ventilation – cutting holes in the roof of a building to let heat and smoke escape, as well as an opportunity to practise tackling chimney fires.
Sioux Lookout Fire Chief Bob Popovic explained that the fire department has recruited six new volunteer firefighters this year. Five of those new volunteer firefighters took part in the training, joined by five veterans of the force.
"This training gives them hands on experience on how to do those skills and those scenarios," Popovic said of the Sept. 26 training exercise.
"One of the things we do as firefighters is we train and then train some more, and then train some more until everything just comes second nature," he explained. Another benefit of the training he said was that it gave the new recruits and the veterans an opportunity to get to know each other and work together as a team.
Popovic explained that while there is space in the Sioux Lookout Fire Hall to do search and rescue training, having the use of a much larger building allowed the trainees an opportunity to use different techniques and tools than they might use in a smaller space.
"It really simulates being in a dark environment with smoke. It makes it a little more realistic," he said.
The Sioux Lookout Fire Hall is made up of 25 volunteer firefighters, plus Popovic, the fire chief.
The Hudson Fire hall has seven volunteer firefighters.