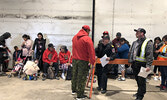 Fire near Pikangikum First Nation "being held", Sioux Lookout continuing to support evacuees
Tim Brody - Editor
Red Lake 14, a wildfire which has been threatening Pikangikum First Nation, is being held as of the evening of June 9, according to the Ministry of Natural Resources and Forestry's Aviation, Forest Fire and Emergency Services (AFFES).
"Red Lake 14 near Pikangikum has received significant rainfall over the past 48 hours. The fire is now being held at 3835 hectares. There are 24 crews assigned to this fire with additional support staff. Crews continue to identify and extinguish hot spots and have begun to remove values protection (sprinkler) equipment from buildings and infrastructure," the Ministry reported.
Nishnawbe Aski Nation shared on their Facebook page on June 9, "Chief and Council are waiting until the status of the fire to be 'Under Control' before they can lift the State of Emergency. Once the situation is deemed safe by experts the return of community members can begin. Chief and Council have not yet declared an 'All Clear' or 'Return Home' notice but are beginning logistical planning for the return of their members. As logistics are confirmed they will post an official notification on the Pikangikum Community Evacuation Facebook page (www.facebook.com/Pikangikum-Community-Evacuation-428528211030602)."
Sioux Lookout Emergency Control Group Public Information Officer Brian MacKinnon shared on June 7 that the number of evacuees from Pikangikum staying in Sioux Lookout has been fluctuating.
"Some self-evacuees are continuing to arrive, while others are choosing to return to their community. Last night (June 6), there were 125 at Pelican Falls First Nations High School (that site is being supervised by IFNA) and 72 at a hotel in Sioux Lookout, but as of this morning, those numbers decreased to 99 and 63, respectively. At this hour we are receiving a number of self-evacuees at the Sunset Inn. It is important to note that self-evacuees need to notify IFNA via their hotline if they are changing locations, in advance, so that appropriate arrangements can be made prior to their arrival. Additionally, those evacuees who refuse additional support from the evacuation hosts (i.e., by choosing to check-out of hotels, etc. and go off on their own), are being advised that they will be unable to access further supports. We continue to work with the OFMEM (Office of the Fire Marshall and Emergency Management) and our other partners and stakeholders to ensure families who may have been separated during the evacuation are reunited, but, again, these reunifications need to be coordinated and planned in advance, primarily, to ensure that there are sufficient numbers of accommodations in the various host communities."
The Sioux Lookout Emergency Control Group, as of 2:25 p.m. on June 7, was continuing to support evacuees in Sioux Lookout and was continuing to work with Independent First Nations Alliance to support evacuees staying at Pelican Falls First Nations High School.
MacKinnon informed that Information Boards have been developed and placed in the Information Centre which has been established in a meeting room at the Sunset Inn.
These boards provide contacts and details on a variety of topics, including: health care, transportation within Sioux Lookout, meals and accommodations and updates on the status of the fire.
MacKinnon added, "With the grateful assistance of IFNA, interpreters are available and are making routine visits to the local hotel to check on elders and ensure there are no issues with communication."
Sioux Lookout will remain in a State of Emergency to support Pikangikum First Nation evacuees for the duration of their stay in the community.