Fire crews contending with more than 40 forest fires in the Northwest Region
Tim Brody - Editor
Fire crews in the Northwest Region are contending with 43 active fires as of the Ministry of Natural Resources and Forestry's Aviation, Forest Fire and Emergency Services (AFFES) July 30 evening report. AFFES informed that among those fires, six are not under control, five are being held, six are under control and 26 are being observed.
AFFES informed that three additional fires were confirmed during the evening hours of July 29 following the previous update:
Sioux Lookout 81 was located approximately 10 kilometres east of Cat Lake First Nation. The fire was called out at 0.1 hectares in size.

Sioux Lookout 82 is located approximately 20 kilometres west of Cat Lake First Nation. The 2.0 hectare fire is being held.

Dryden 32 is located near Lower Walmsley Lake, approximately 32 kilometres south of Dryden. The 0.2 hectare sized fire is under control.

AFFES shared regarding "Northwest Fires of Note:"

Sioux Lookout 33 is located on the western edge of Wabakimi Provincial Park and is 60,394 hectares in size and not under control. Crews continue to establish hose lines while helicopter bucketing operations continue to work priority areas on the fire.

Nipigon 19, located northwest of Ogoki Lake is 10,182 hectares in size and is being held. Crews continue to work hot spots identified by infrared scanning.

Red Lake 28 is located 40 kilometers North of Lac Seul First Nation is being held at 19,177 hectares in size. Crews continue to establish hose lines helicopter bucketing operations continue to provide support.
According to AFFES, "The wildland fire hazard in the Northwest Region is high in the Kenora, Dryden and Fort Frances sectors. Red Lake and Thunder Bay sectors features moderate to high hazard conditions. Sioux Lookout and Nipigon sectors feature high hazard conditions in their southern portions changing to moderate and low hazard conditions in their northern reaches."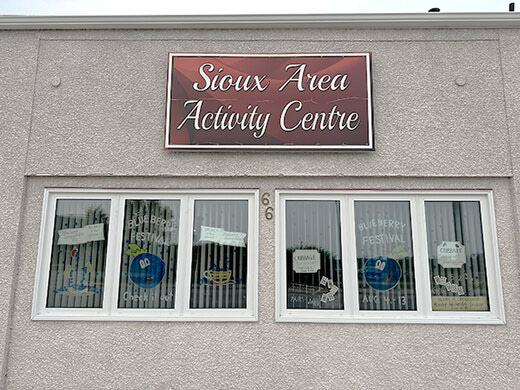 Wednesday, August 2, 2023
The Sioux Area Senior's Activity Centre's Front Street facing windows have been decorated for the 41st Annual Blueberry Festival, which gets underway on Friday.