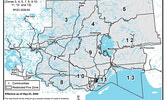 Fire ban back in effect for Sioux Lookout, parts of Northwestern Ontario
Tim Brody - Editor
After a province-wide Restricted Fire Zone (RFZ) was lifted on May 16, an RFZ is now back in effect for the Thunder Bay and Dryden Districts, as well as the eastern Fort Frances district and southern portions of Sioux Lookout and Nipigon Districts as of 12:01 a.m. Saturday May 23.
According to the Ministry of Natural Resources and Forestry, the RFZ was put into effect due to the high forest fire hazard in the area.
"The Restricted Fire Zone is in effect until further notice. Outdoor fires are banned. Portable gas stoves may still be used BUT must be handled with extreme care," the Ministry shared.
People can learn more about outdoor fire restrictions at: www.ontario.ca/page/outdoor-fire-restrictions.