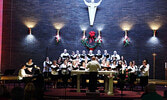 Festival of Carols practices begin
Jesse Bonello - Staff Writer
Members of the Community Choir have started preparing for this year's Festival of Carols, with practices beginning on Sept. 16.
Practices are held on Monday evenings at 7 p.m. at Sacred Heart Church up until the concert day, which is Dec. 1.
Festival of Carols director Gerard Normand is in his third year as choir director, and he's hoping to keep the Festival of Carols exciting for the community.
"I'm not sure which way I want to go with it this year because I know my first year I did it with a different flare and this past year I ended it in a different way then they're used to traditionally as well, so I'm still trying to figure out how I want to proceed with doing it," said Normand.
"I just want to keep it so it's exciting, and I like to have the element of surprise because it adds something different. They're used to doing the norms for the past 30 years, or so, before so, when I took it over, I did a different flare with the festival to have a different variation on the Festival of Carols.
"I'm still trying to figure out how to get a children's choir involved. Usually, they used to have one every year. The last two years we haven't had one because there hasn't been anybody to take on the reins with the children," he added
Normand shared that it's energizing to see the continued support from the community every year for the festival, which is an event that many community members consider to be the start of the holiday season.
"I know for the community it's the start of the Christmas season for Sioux Lookout because that Sunday is the first, and then the (Santa Claus) parade is usually the weekend after. From what I've noticed, since I've been here, it starts it off. You see the excitement, with our choir especially… It's exciting to see that the community really supports the festival. Every year they look forward to it, so it gives me excitement to be part of that," he said.
This year's Festival of Carols will take place on December 1 at Sacred Heart Church and will feature two performances, one at 2 p.m., and another at 7 p.m.