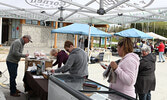 Farmer's market
A steady stream of community members visited the first Northwest Farmers' Market of the season, held on May 24 at the Sioux Lookout Travel Information Centre.
Nine vendors brought a variety of goods to the market, hosted by the Sioux Lookout Chamber of Commerce.
The next farmers' market will be held on June 7. For the full farmers' market schedule, or to learn about becoming a vendor, visit www.siouxlookoutfarmersmarket.com.