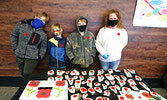 Family's fundraiser to support Legion Poppy Campaign raises hundreds of dollars
Tim Brody -
Editor
Inspired to support the Sioux Lookout Legion's Poppy Campaign, the McCord family of Sioux Lookout lovingly painted poppies on rocks they collected and sold for a donation at Fresh Market Foods on the evening of Oct. 30. All donations collected will go to the Legion's Poppy Campaign. As of Nov. 1, over $850 in donations had been collected.
"This is a very important fundraiser for our Legion and the boys and I are very excited to be able to put a spin on their fundraising efforts and hope to be able to assist and make 2020 a successful campaign," Nancy McCord shared in a Facebook post.
Polly McCarty, Manager of the Edwin Switzer Memorial Sioux Lookout Legion, Branch #78, shared in a recent Letter to the Editor, "Our commitment to "Never Forget" is being put to the test this year, and we must collectively stand together to support our Legion and our Veterans, where and when we can. The Poppy Campaign is an excellent place to start. Any donations collected are greatly appreciated and invaluable as they are used to provide a multitude of services, assistance and support for Veterans and their families."
The Legion's Poppy Campaign started on Oct. 30 with the placement of poppy boxes at local businesses
McCarty said of the McCord's fundraiser, "We are appreciative of their thought and efforts to donate towards our Poppy fund."
Remaining rocks were placed on an outside table at Roy Lane Coffee the following day. People were able to leave donations in a box inside the store.
Nancy McCord shared on Nov. 1, "I have received $858 so far, but did not pick up the box from Roy Lane yesterday so there is more there also!!!! The sale of these poppy rocks has been an absolute success and surpassed our ambitious goal of $500! Once again, Sioux Lookout and area came through to show their support! Our family is thinking this will be a new annual fundraising tradition to help support the local poppy campaign! Some of our rocks have been sent out to other communities in Ontario and we have received email transfers of donations from all over Canada! The support has been overwhelming! A few places that I am aware of the rocks being sent to are Ottawa Valley, London, Greenstone, Ignace and Dryden! We are very proud of this endeavor and are already looking forward to next year!"
Ethan McCord commented, "I think it's going to a good cause. They helped our country, so we're helping them."
Christopher McCord said it felt good that something he had worked on will be helping others.
Donovan McCord said it made him happy to support the veterans. He added he was glad that so many people supported the fundraiser.
Nancy McCord added, "We are overwhelmed at the support of this town. Our minds were blown. People were very, very generous… Sioux Lookout rocks!"