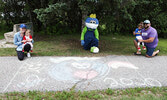 Family Chalk Day Drop-In
Community members and visitors to town were invited to drop by the Travel Information Centre on August 2 to create chalk works of art.
Pictured: Blueberry Festival mascot Blueberry Bert (centre) is joined by Janel George and one-year-old daughter Olivia (left) and Joe Cassidy and two-year-old daughter Nova, in marvelling at one of the chalk artworks.
Best overall drawing was created by Mason Quedent.