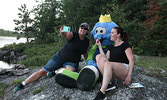 Epic Car Scavenger Hunt
Twenty teams of two competed in the 3rd Annual Epic Car Scavenger Hunt on August 4 during the Blueberry Festival.
Participants completed challenges for points, with the team with the most points accumulated during the event winning a prize sponsored by Sioux Lookout Home Hardware Building Centre.
This year's top team, with a score of 1,590, was the team of Savannah Kirton and Hilary Cameron.
First runners up were Kaitlynn Bronson and Ben Martin with a total score of 1,510.
The second runners up were Laura Saudino and Josee Duewel with a score of 1,490.
Proceeds from the event will be donated to the Sioux Lookout Lions Club for Canada Day fireworks in 2021.
Pictured: Jeanet Pierce (left) and Sara Bye (right) snap a photo with Blueberry Festival mascot Blueberry Bert.