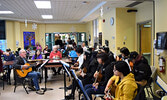 Elders Council visits SLMHC patients, Extended Care residents
Jesse Bonello - Staff Writer
Residents at the William A. 'Bill' George Extended Care Facility enjoyed an annual visit from the elders council on Dec. 5, which featured Wawatay streaming their Christmas special from the Extended Care Facility to residents and northern communities.
Kathy Loon, Traditional Program Manager for the Sioux Lookout Meno Ya Win Health Centre (SLMHC), said the Elders Council has been visiting SLMHC patients and Extended Care residents since 2008.
"There are eight elder council members from communities up north. They have three-year terms, and they provide advisory services to the board of directors at the Sioux Lookout Meno Ya Win Health Centre. They meet twice a year; once in the summer time and then once right around the beginning of December," said Loon.
"Around Christmas time, they take the time to visit patients at the hospital because the majority of our patients are from the northern communities and they don't get many visitors, so it's a big deal for the elders to go around visiting patients. They also stop by the ECU to visit patients. At the same time we provide a Wawatay radio show. We go on air so the residents, elders, or staff can say hello or Merry Christmas to people that are listening to the airwaves, so it's a big deal and a big treat. We sing Christmas songs as well," she said.
The radio show also featured a visit from ten Pelican Falls First Nations High School grade ten students who arrived with guitars in-hand, providing Christmas songs for Extended Care residents and those listening to the radio show.
Loon said residents enjoy seeing schools and visitors stopping by during the holiday season.
"Everybody here loves seeing the youth come in. It's a busy time of year here, but I know the residents enjoy it," said Loon.