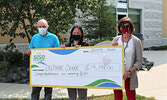 Eighth SLMHC Foundation 50/50 Charity Draw winner
Reeti Meenakshi Rohilla -
Staff Writer
Sioux Lookout's Delphine Crane has taken home the July jackpot in the Sioux Lookout Meno Ya Win Health Centre (SLMHC) Foundation's 50/50 Charity Draw.
Crane, a SLMHC employee, who had been purchasing tickets since the beginning of the 50/50 Draw was excited to have won $14,148.
"I went on the website… after I remembered the draw. So, I was actually really excited when I saw my number, I had to double check, because I've been buying their raffle since they started," said Crane. She added, "Because I live in town, it's a way of supporting the hospital…to get the stuff that they need." Crane shared that she had also been purchasing tickets for the 50/50 Charity Draws in Dryden and Kenora.
Foundation Treasurer Rita Demetzer said, "I'm certainly always pleased that people are willing to buy tickets and provide their funds for equipment for the hospital." She added, "We are always very, very grateful that people are donating to the foundation for equipment and other needs for the health centre…and hope that people will continue to purchase tickets and get a chance to win and donate to the foundation."
Demetzer said that for their next draw they have planned an extra early bird draw of $500 in recognition of the Blueberry Festival. She said, "We are going to have an extra early bird draw of $500 that will be drawn on the opening day of the Blueberry Festival, July 30."
The next 50/50 Charity Draw will take place on August 11. People can purchase tickets at