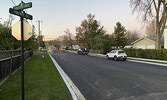 Eighth Avenue Road Reconstruction project nears completion
Tim Brody -
Editor
Paving of Eighth Avenue in Sioux Lookout got underway last week.
The Municipal Eighth Avenue Road Reconstruction project, taking place along Eighth Avenue from Front Street to Prince Street, will be substantially completed once the paving is complete.
While paving continues this week, according to the Municipality of Sioux Lookout, Eighth Avenue will be mostly inaccessible expect for local traffic, including those taking their children to school.
The Municipality shared, "Weather does impact timelines, as the laying of asphalt should not be done during the rain, especially if it creates ponding water. Additionally, the temperature must be at least seven degrees Celsius and rising when asphalt is being laid. An actual completion date for the asphalt will be dependent on the weather."
The Municipality had previously shared that, "The project is essentially replacing all existing surface works on Eighth Avenue from Front Street through to Prince Street (approx. 350 linear metres) which includes the construction of new stormwater management infrastructure to eliminate the existing ditches/swales, new concrete curbs and gutters, new sidewalk and new asphalt surfacing. In addition to the surface works construction, the installation of additional watermains under Eighth Avenue for the provision of increased fire flows to areas west of Eighth Avenue will also be a component of the project."
The project is mainly being funded by the Municipality with utilization of some government funding.
The total construction cost estimate for the project is $1,700,000, which breaks down as: $224,000 OCIF Formula Based Funding, $334,000 Gas Tax Funding and $1,142,000 being funded from long term debt.
The Municipality shared that once paving is complete the only activities left to undertake will be minor touch-ups (filling in topsoil and adding gravel at entrances), and line painting.