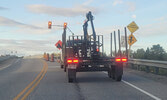 Ed Ariano Bypass sees upgrades
Mike Lawrence -
Staff Writer
New stop lights and one available lane for traffic are recent features of the Ed Ariano Bypass that Sioux Lookout residents may have noticed lately.
Signs informing residents of the pending construction began to appear in late summer, with work starting in earnest in September.
In an October 6 email, the Ministry of Transportation (MTO), stated that the contract was awarded to Landform Civil Infrastructures Inc. for $2,157,000 in August of this year. Construction work on the bypass is expected to be completed by early summer 2022.
The work to rehabilitate the bridge includes new barrier walls, minor concrete repair, and new waterproofing and pavement over the bridge. As anyone who has taken that route since work began has probably noticed, the construction is staged, with temporary traffic signals used to allow a single lane of alternating traffic through the site. The MTO reminds motorists on their website to drive at the posted speed limit as speeding fines are doubled in construction zones where workers are present.