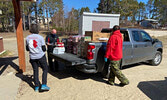 Drop in active COVID-19 cases in Lac Seul First Nation, rain helps FireRangers battle nearby wild fires
Tim Brody -
Editor
The number of active COVID-19 cases in Lac Seul First Nation has dropped dramatically according to Sioux Lookout First Nations Health Authority (SLFNHA) Public Health Physician Dr. Lloyd Douglas.
Dr. Douglas shared that 44 active COVID-19 cases had been recorded at the peak of the outbreak in the First Nation. He said on the morning of May 21 that 30 of those cases were resolved with 14 active cases remaining.
Dr. Douglas said strong leadership from Chief Clifford Bull and his council, community members and staff, as well as support from partners such as Independent First Nations Alliance, SLFNHA, the Canadian Rangers and Team Rubicon Canada, have been essential during the outbreak in helping to manage the situation in Lac Seul.
Additional support has also been provided by Grand Council Treaty #3, Kenora District Services Board paramedics and the Northwester Health Unit.
In addition to dealing with the COVID-19 outbreak, the First Nation has had to contend with two wild fires burning nearby.
Chris Marchand, Fire Information Officer with the Ontario Ministry of Natural Resources and Forestry, shared on May 20 that Sioux Lookout 3 originated on May 16, and as of May 20, was located approximately 15 km north of the Kejick Bay settlement area.
As of May 20, Sioux Lookout 3 was listed at 3,427 hectares and had moved in a north, northwesterly direction.
Sioux Lookout 5 was discovered on May 18, approximately 14 kilometres to the northwest where, as of May 20, it was burning roughly parallel to Sioux Lookout 3, Marchand informed.
As of May 20, Sioux Lookout 5 was 226 hectares in size. Both fires were listed as not under control as of May 20.
Marchand said eight, four-person FireRanger crews were working the south end of Sioux Lookout 3 and have set up sprinkler systems on nearby values.
"Crews have also tied in the northeast corner of the fire to Aerial Lake with the help of heavy equipment from local industry.
"Fire behaviour is presently low on both fires, due to some significant rainfall in the past 24 hours.
"Smoke is not a concern at the present time due to low fire behaviour. Winds have been pushing the fire and its smoke away from the community," Marchand shared on May 20.
Air quality due to smoke from the fires has been a concern to the First Nation, who shared in a statement to The Bulletin on May 21, "There is currently an Air Quality Warning in effect, so we have distributed air purifiers. There is no risk of fire spread to the surrounding communities at this time."
Marchand also said the fires are not causing a threat to the community, and as of May 21, were burning in the opposite direction.
The May 21 statement went on to inform, "No evacuation order has been invoked, but for the sake of being proactive and ready for any situation, we have released information on how to safely evacuate, and what the general plan would be, if needed."