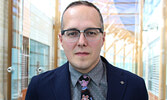 Dr. Christopher Mushquash receives 2020 Champions of Mental Health Award
Jesse Bonello - Staff Writer
Dr. Christopher Mushquash, a Sioux Lookout born clinical physician now based out of Thunder Bay, has been recognized for being a leader in providing mental health and addictions services.
Mushquash was one of seven Canadian individuals and organizations to receive a 2020 Champions of Mental Health Award from the Canadian Alliance on Mental Illness and Mental Health (CAMIMH), winning his award for the Innovation - Researcher or Clinician category.
"Each year during Mental Health Week, CAMIMH recognizes seven Canadians and organizations whose work has advanced the mental health agenda across the country. These remarkable champions were nominated by their peers, colleagues and community members," the CAMIMH shared in a media release on May 4.
"Dr. Mushquash is a Canada Research Chair in Indigenous Mental Health and Addiction, an Associate Professor in the Department of Psychology at Lakehead University and the Division of Human Sciences at the Northern Ontario School of Medicine, and the Director of the Centre for Rural and Northern Health Research at Lakehead University. He is a registered clinical psychologist providing assessment, intervention and consultation services for First Nations children, adolescents and adults at Dilico Anishinabek Family Care. Dr. Mushquash is Ojibway and a member of Pays Plat First Nation… Through his work, he champions culturally and contextually appropriate mental health and addiction services for First Nations peoples, and for individuals living in rural and northern communities," the release further informed.
Mushquash said he was honoured to receive the award and help shed light on mental health and addictions issues. As someone with roots in northwestern Ontario, Mushquash said the work he does is part of a long-time goal to give back and provide services to residents in his home region.
"To be recognized for the work that you do is, of course, a great honour and privilege. The nice thing about being selected for an award such as the Champions of Mental Health Award is that it helps bring attention to important issues in mental health and addictions, and also all of the collaborations, people, communities, and partners that work together to address these issues," said Mushquash.
"It's always been my goal to develop skills in order to be useful to people in northwestern Ontario, and the pathway that I found was through research and clinical work in mental health and addictions. To be able to work in northwestern Ontario, to provide services to individuals in northwestern Ontario, is a great honour. It's something I was motivated to do from a very young age, and I've been very fortunate in being able to have a meaningful life in northwestern Ontario where I can contribute or get to try to contribute… I think northwestern Ontario has a lot of strengths, a lot of capacity, and a lot of great people," he explained.
Mushquash said he left Sioux Lookout in his teens to pursue his post-secondary education. He said he looks forward to local visits with family and friends while enjoying the outdoor and recreational opportunities that Sioux Lookout has to offer.
"My parents still live there. My sister, brother-in-law, and their children still live there as well. I left Sioux Lookout in my late teens to go to university, but of course I would travel back there a few times a year to visit. I still have a lot of friends in Sioux Lookout, and I still really enjoy going there. I really enjoy everything that Sioux Lookout has to offer in terms of closeness to outdoor activities and recreation and, as well, the nature of the community there," he concluded.