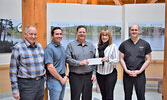 Donation allows hospital to receive new equipment for surgical unit
Jesse Bonello - Staff Writer
A donation of approximately $12,800 from Morgan Fuels to the Sioux Lookout Meno Ya Win Health Centre (SLMHC) Foundation has allowed SLMHC to purchase and order a new intubating bronchoscope for their surgical unit.
Prior to the donation, a bronchoscope has never been available at the SLMHC.
"The instrument is used to help with managing the airway during an anesthetic. It's a specialized camera that helps us precisely place a tube in the trachea to help a patient breathe. Before this generous donation, we have never had a bronchoscope available in this hospital," said Dr. Eric Touzin.
"It is usually used in urgent settings, or difficult situations. This instrument will help us add another layer of safety when providing general anesthetics for surgery, or when dealing with critically ill patients in the emergency department. Also, having the bronchoscope available here may allow some patients to receive their surgical care closer to home instead of having to travel to the city," he added.
"It was a donation that we did with the ESSO Sales Agents Association in conjunction with Morgan Fuels, and we just wanted to support local initiatives. We had approached the (SLMHC) foundation, and Eric had talked to me on a personal level that he was looking for a piece of equipment. This fit right in with the surgical unit, so we were able to make the donation and earmark it for that specific piece of equipment," said Darrell Morgan, President of Morgan Fuels.
The SLMHC Foundation said they're grateful for the ongoing support from the community.
"I want to thank the community for their continued support, and for their commitment to the health centre. We certainly appreciate all the support," said Rita Demetzer, SLMHC Foundation representative.