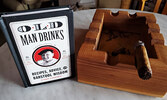 Dick's Hideaway:
Yes, we have no sarsaparilla
Dick MacKenzie - www.dickshideaway.com
Tonight we're at camp. First time since early November as we waited for freeze-up and snow. It's glorious to be here, though the usual 15 minute snowmobile ride morphed into three hours of the roughest trails I've ever tackled, along with several hang ups and numerous chainsaw cuttings of beaver downed trees blocking the way.
Once here, though, and a few hours into heating the cabin, the world is revolving in a beautiful way.
Drinking my wine and watching the happy chickadees at the feeder I had a sudden urge, right at sundown, for a nice cold drink of sarsaparilla. I have never had a drink of sarsaparilla in my life. When I asked Mary if we had any in the cupboard she gave me the look.
We are expecting a foot or so of snow overnight. What a time to have no sarsaparilla on hand.