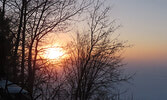 Dick's Hideaway
Who wouldn't be happy?
Dick MacKenzie
Darrell Morgan and I live a mile apart, across a bay of Pelican Lake. When we want to, we can wave across the water to each other.
This morning before sunrise the two of us were chatting and realized the ice fog was so thick we couldn't see across the bay.
While out picturing the emerging sun as the day brightened, my eyes caught sight of a bundle making its way along the road, up the lake shore, in my direction.
The bundle stopped frequently for short moments, steam clouding the air, then resumed its slow progress making a slow-motion graceful dance closer and closer.
Finally beside me the bundle unwrapped its face scarf and there with a wide smile was my good friend Mother Superior Junction on her way to church.
"Why are you walking on a day so cold?" I asked.
"We don't see many mornings like this. I love to live the experience and cherish what each day brings. It's a moment of wonder to see and feel the beauties we have for the taking. Who wouldn't be happy to cherish a very few days a year so different from all the others?"
We talked for a little while more, then Mother Superior had to be on her way to morning mass. She smiled, winked a cheery good bye, tucked up her scarf, and continued her journey.
I was warmed by another wonderful encounter with a Sioux Lookout friend, and came inside to send the sunrise to Darrell.