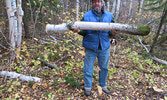 Dick's Hideaway
Sweet Memories
During a walk in the woods this frumpy fall day I came across the stump of a 46-year-old birch tree I cut while clearing a walking trail/snowmobile route close to camp. My mind imagined the forest fire that devastated this area 56 years ago. I marveled at the wonder of this tree that started up about 1977, ten years after the fire. I was teaching school in Fort Severn at the very moment that little seeding poked its shoot out of the forest floor.
Further back - somewhere about 1950 when I was six years old - I had my first lesson counting rings on a tree stump. That was a moment, and an era, that has been forever fondly etched in my soul. For a hint of those boyhood days in Vermont and a small tribute to two of my very favorite people go to www.dickmackenzie.com/id4.html . Scroll all the way down to the picture of Mildred and Ira Hatch and my letter right below it.
For me, Fall is a season for sweet remembering.

Wednesday, October 4, 2023
The Sioux Lookout Friendship Accord is one of the area organizations which will benefit from Government of Canada investments totaling $2,404,901 in support of strategic initiatives led by Indigenous communities, businesses, and organizations...