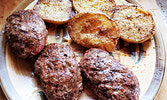 Dick's Hideaway:
Special is all around
Dick MacKenzie - www.dickshideaway.com
Sometimes "just okay" is pretty special.
Today's ride across the lake to camp under a gloomy sky brought searing tears to the eyes challenging fall's chill.
Leaves, mostly, have deserted their beautiful summer trees, leaving a barren forest to sulk under the overpowering clouds. The aura isn't classic loveliness.
Later, the wood fire heat in the cabin transformed ugly to exquisite... homely to wonderful. The day became a joy.
A simple supper of hamburger steaks and barbequed potatoes, with a glass of boxed Cabernet Sauvignon, made a sundown meal fit for the fattest royalty.