Dick's Hideaway
Rasslin' the devil
Quite a few years ago my brother, a vegetarian at the time, was coming to visit so I scouted around for some recipes we could barbeque and the first I tried was a hamburger substitute - a grilled portobello mushroom slapped between two slices of Kaiser roll, with mustard. Although I did everything the recipe described, it was nothing like a hamburger. I wouldn't say it was bad, but it did remind me of a boyhood joke about a shit sandwich.
Now, I am transitioning into some new eating habits and finding this battle with the devil a pleasant challenge.
This is a long weekend at camp, so the perfect time to begin the process. I decided not to tell Mary about my newly diagnosed diabetes condition so I could just grab this one and get started. Well, camp and scotch go together like coffee and a cigarette (I fought that war and won about 30 years ago after 35 years of heavy smoking and 12 years trying to quit).
So far, so good. Pictured are some of the treats Mary brought for the weekend - three kinds of cookies, my favorite cheezies, brownie mix, potato chips and nachos. I have to admit I was tempted during the afternoon as I drank my two Shirley Temples - bountiful, delicious big glasses full of dill pickle spears, tomato chunks, lemon slices, olives, tabasco sauce, Old Bay seasoning and topped off with Clamato juice and ice cubes. I've included a picture of those, too.
For the rest of the afternoon and evening I rode the high of ice water, straight from the lake, with a lemon wedge.
The devil kept it up. After supper Mary said, "I brought brownie mix out. Tomorrow we'll have brownies and ice cream." I could only smile and sing, "Mmmmm..."
This morning I was up and eager at 6:30. I thought maybe I'd have my mid morning snack right then and have a late breakfast when Mary got up, so I had a slice of toast (no butter) and the most miserly scoop of peanut butter I've ever threatened a slice of bread with. To my surprise I did get it to spread all over, but it was touch and go for awhile.
For breakfast a few hours later I fixed myself a single egg on dry toast and a single slice of bacon (cut in half so it seemed like more). Meantime, I kinda let the cat out of the bag, or I came out of the bag, and told Mary what was going on. I could only refuse so many cookies and desserts and second helpings before she might become suspicious and I really preferred she know I was on a diet than suspect I was behaving oddly because I was having an affair.
So, the weekend is starting off well. I waited til noon, then had my first Shirley Temple, followed closely by a second. Now I'm drooling over my tall frosty glass of lemon water and waiting for my mid afternoon snack. Today I can have trail mix - three raisins and two unsalted pistachios.
Living the dream!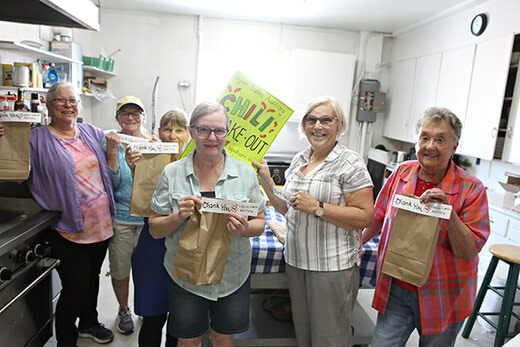 Wednesday, May 31, 2023
Members of the Sioux Lookout Legion Ladies Auxiliary held a chili take-out lunch fundraiser on May 26 at the Royal Canadian Legion, Branch 78, Sioux Lookout Legion...