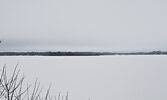 Dick's Hideaway:
Rarin' to go
Dick MacKenzie - www.dickshideaway.com
December sunrise on a quiet morning. Cloudy and mild, with a snowfall forecast later in the day. Jazz Christmas music and hot coffee while the rest of the house sleeps.
Purple finches at the feeder the past three weeks have departed and are now replaced by a dozen gold finches snacking on sunflower seeds. The loyal nuthatches and chickadees flit in and out all day long, taking a single seed each time to feast in a secluded safe place.
I often watch a raven sit for three minutes and stuff itself with more seeds than a chickadee eats in 300 trips to the feeder in its daylong quest.
Lake ice has strengthened in the past week since freeze over. Last report was seven inches. More is created each day. Two days ago we saw a few snowmobiles on the lake. Yesterday a plane on skis landed and took off from the ice.
A few inches of snow in the forest make snowmobiling possible, but not yet perfect. A few more inches forecast for the coming days will lay a foundation among the pines for smooth sledding in the winter months ahead.
Our snowmobiles came home yesterday, freshly winterized and ready to go. We're planning our first winter stay at camp very soon - just a few days from now when conditions are safe for our travel. It'll be Mary's first trip to camp since her illness in mid summer. That'll be exciting, and she might think that I took pretty good care of the place while she was away.
As I brought the boat in to town six weeks ago for the last time, I looked over my shoulder at camp and gently spoke, "Good bye, Boomer..." to our beautiful boy, who had spent his last days, cheerful and content, there. The cold wind of the afternoon brought tears to my eyes.
The new season has arrived with its promise of warm wood fires, hot drinks, moments of awe under clear skies and northern lights, and other adventures. We are raring to revive the pleasures of winter.