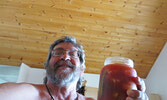 Dick's Hideaway
Pickle jar journey
An old high school friend asked how I'm doing with my diet. When I wrote back he replied that I should share the story. So...
Everything is going swimmingly. I'm doing very well. Thanks for asking, pal.
It has become more apparent to me that I'm engaged in two related, but separate, challenges. One is alcohol use, the other is eating and dietary stuff.
It's been just under two weeks since starting. So far I've lost three pounds and have not had a single drink of alcohol, nor even the hint of a sniff of alcohol vapors rising from a little glass of libation.
My outlook is aimed forward, not allowing a lot of dwelling on the past. I've smoked, and drank and eaten over the years in ways that have helped me achieve a high ranking for indulgence in all those categories. It's been good, and I'm proud of it. I've had a great run. Now, it's time to find some new pleasures and challenges, and I'm convinced I'll do that with the same determination and joy as before.
I'm on the search for different barbeque recipes, though I can incorporate a lot of my favorites right now and just eat moderate portions (I think. I'm still wandering in a bit of a fog through all the diet plans and approaches to healthy eating). I know already that a burger made from three kinds of chopped up mushrooms and onions and garlic and eggs and a couple of my favorite seasonings isn't going to the top of my favorite's list (and that's the only thing on the list at the moment).
On the other hand, I have made a mixed drink (Caesar, but Bloody Mary would work as well, I think) using Clamato juice, lemon slices, olives, dill pickle spears, small tomatoes (or big ones cut into smaller chunks), tabasco, Old Bay seasoning that is so good your socks will fly off as you sip it. (I also drink some club soda with lemon slices in my favorite scotch glass which works fine). I think attitude goes a long way.
Saturday I had a six-hour boat cruise. It's part of a trip I do, along with two other Rotary friends, in which we auction off this outing for four couples. It's an hour and a half cruise each way out to a friend's island camp on Minnitaki where we hang out for three hours and enjoy drinks and a top notch meal (this year - about six different hors d'oevres, including deep fried halibut fingers from a fish one of the guys caught on a British Columbia trip a couple weeks ago, standing rib roast with early potatoes and vegetables, two kinds of salads, two desserts (pecan pie and rhubarb crumble), unlimited wine and margaritas). Extravagant!
Knowing this particular afternoon/evening would be a special temptation I tried to figure out how I'd handle the drinks, and came up with the idea of mixing a big batch of my good ol' Caesar in a pickle jar I had handy, figuring it would contain everything and be the equivalent volume of several drinks and I could drink right from the jar and then easily eat all the debris (pickles, olives, etc.) right out of the wide-mouth jar when the juice ran low.
As you might imagine, there was quite a bit of good natured banter when I hauled out my drinking vessel as everybody wanted to know, "What the hell is that?" They all knew my program so I was able to tell them in my most distinctive, pseudo-indignant manner, "I call it a Shirley Temple and it's very, very good."
After a few minutes of occasional jokes, curiosity got the better of a couple people as they saw me obviously enjoying my drink and they wondered if they might try a sip - just to see what it was like. Pretty soon my pickle jar was passing around the group like the communion cup at a Baptist revival. It was cool. Pretty much turned what could have been a bummer, can't drink, into a fun little event that everybody got a kick out of.
Doubt if I made any converts (which wasn't my intention, anyway), but I'll bet it contributed some influence in case anybody else wants to quit drinking sometime.
So, everything is going fine. I'm well aware that two weeks represents only a tiny step, but I'm there and pretty happy about it.
And I identified a new bird (for me) at camp yesterday - a Ruby Crowned Kinglet.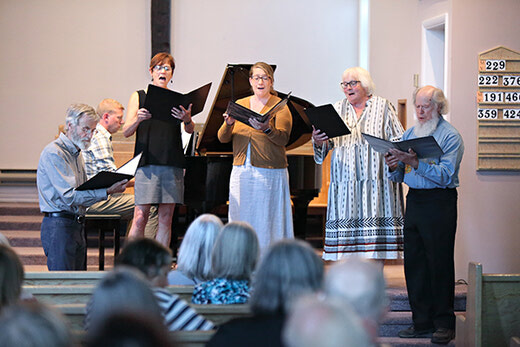 Thursday, July 20, 2023
Boreal Music (a group of local residents with a passion for classical music) presented "An Evening of Classical Music" on June 5 at St. Andrew's United Church.