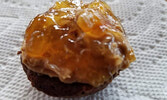 Dick's Hideaway
Miniature sunrise
Dick MacKenzie
I call this little delight a breakfast brownie.
As I waited this Christmas Eve for a cup of coffee to warm up, watching dawn blossom across the lake, I caught sight of a small package of brownies on the counter.
After a moment of wondering, I popped one out of its tiny box, spooned a healthy gob of crunchy peanut butter on top, then added a great smack of marmalade atop it all.
The little devil smiled at me, like my own miniature sun coming to life beside my now steaming coffee on the table.