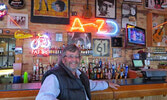 Dick's Hideaway
Hibbing, Minnesota
Here I am in Porketta Heaven, Hibbing, Minnesota. I fell in love with a local bed and breakfast by reading about it online, so called from home this morning to make a reservation - all booked up. I asked the lady on the phone where else I might try and she recommended a motel in a town eight miles away. When I explained I wanted someplace within walking distance of downtown Hibbing she seemed a bit brusque and said she couldn't recommend anyplace else in town. I was disappointed with her attitude, so just drove on down and found a nice little place five blocks from Zimmy's Restaurant, a Bob Dylan themed bar/restaurant right downtown, and checked in. The picture shows me in Zimmy's where I had a great porketta sandwich and a couple bottles of Grain Belt beer.
I got a huge laugh at customs while crossing the border. The officer asked the usual questions, then came to have a close look at my truck. When she went around to the back and asked what was in the bag I was confused. I just cleaned out my truck yesterday in preparation for the trip and wasn't carrying anything at all, including a bag, in the back.
As I sat dumbstruck, trying to figure out WTF, she asked, "Is it garbage?"
I immediately started howling with laughter as I remembered I had taken a bag of garbage to put in the dumpster on my way to work at 5 a.m. and promptly totally forgot all about it. I tried to explain, through my hysterics, why I was smuggling a bag of garbage into the States.
Very, very funny, I thought.
She didn't, so pulled me over for a closer inspection. Everything turned out fine. Customs let me continue after running me through their computer and I even got to keep the bag of garbage.
Forgot to pick up scotch today, so am sitting in my motel room drinking tap water. Don't know how long it's been since I just had tap water. Long time! I don't recommend it as top choice.
Minneapolis tomorrow. My friend will be happy to see me and my bag of garbage.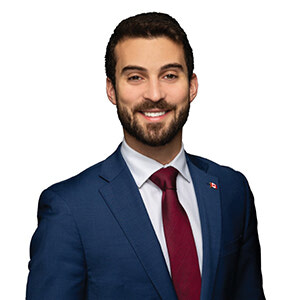 Tuesday, April 11, 2023
I enjoyed spending time in Sioux Narrows-Nestor Falls meeting with the township's Municipal Council. I received an update on the work Council is doing and how the federal government can support municipalities...