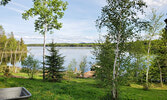 Dick's Hideaway:
Dick MacKenzie - www.dickshideaway.com
First Monarch
This evening I saw a Monarch butterfly. It's the first of the season and a heart thumping thrill. It flew around the yard for 15 minutes, jerky, dodgy, and fast. I wasn't able to get much of a picture.
I have left dandelions in hopes of attracting bees and butterflies. I always do, because I think the flowers are beautiful anyway.
Only a few bees have shown up so far, but I have enjoyed several Eastern Tiger Swallowtail butterflies during the last few days. They are only slightly smaller than the monarchs, but equally majestic and captivating to watch.
Many Spring Azures have caught my attention. They are tiny, pretty blue butterflies that remind me of Kindergarten children at play on a sunny day.
As dusk sets in I have carved a huge slice of apple pie and poured a generous glass of Cabernet and staked out my viewing spot on the Palace deck, hoping the monarch will fly by for one more visit tonight.