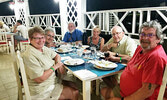 Dick's Hideaway
Chance meeting on a Cuban beach
Dick MacKenzie
Last night two friends left for home. Ten of us got together for a last round of libations and to say so long for another year.
As night came on and darkness serenaded us, Mary and I sat alone on the patio of the 24 hour restaurant, enjoying quiet time and glasses of wine under clear sky and bright stars.
My mind wandered and sang silently the Chuck Berry song Havana Moon. It's a pretty song, bluesie and bitter sweet, but beautifully done. Only in recent years have I come to know and appreciate the full wonders of Chuck Berry beyond Johnny B Good and "up in the morning and off to school, teacher is teaching the golden rule..."
In the dimness, a man stood at our table, talking to us. Mary and I exchanged puzzled looks with each other, wondering who the stranger might be, as he pulled out a chair, sat down, and bellied right up to us, talking all the while.
Once comfortably settled he looked up, flashed open startled eyes, dropped his jaw to his lap, paused for several awkward seconds, then profusely apologizing, blurted out, "Oh, sorry. Excuse me. I thought you were somebody else."
He quickly jumped up and said goodbye as the three of us laughed and extended good natured greetings.
Later, as Mary and I departed we saw our friend with three other people at a table just around the corner and we glided past and wished them a pleasant evening.
Introductions followed, and we told each other where we were from and a little about ourselves. Our new friends were two couples from British Columbia.
When he heard we are from Sioux Lookout, one said, "I know a guy from Sioux Lookout. He has been a pilot in BC for many years, but once flew in Sioux Lookout."
I asked the pilot's name and our man answered, "Dale Buchan."
Once I caught my breath I blurted out, "I knew Dale. I went down with him in a Cessna 185 when the engine quit in mid-air between Big Trout Lake and Pickle Lake. That was in 1978 or '79. Forty years ago."
We were down and out of commission for a few hours, but the incident had a happy ending. I have retold the story on occasion, but it has been largely forgotten over the years. Not long after I heard Dale had moved to the west coast and was flying in British Columbia, but we haven't been in touch for all this time.
So, another story with a Sioux Lookout connection, a chance encounter on a Cuban beach decades after the event.