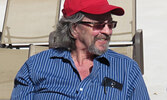 Dick's Hideaway
Bizarre
After a half hour ride the taxi driver dropped me off at Raleigh-Durham Airport.
As he handed my luggage over he said, very friendly-like, "You seem like a nice guy. You don't look like a terrorist."
It seemed to me like a damn goofy thing to say.
Tuesday, January 31, 2023
The Northwestern Health Unit has released its 2023-2026 Strategic Plan...