Dick's Hideaway
A walk to camp
We walked into camp this morning. The dogs and I tried a different route than we have tromped before. It was a good walk, following tracks of early snowmobile daredevils across a couple frozen bays and through the woods.
After 20 minutes or so we branched off on our own for the last half hour of walking through virgin snow, not quite knee - deep.
A quarter mile from camp I stopped to brush snow off a log and sit for a rest (the dogs were panting pretty hard, you know).
As we lounged I became aware of gentle, soft cooing -purr sounds. There on the tree branches overhead, five feet away, were half a dozen chickadees, schmoozing like long lost friends. My heart fluttered like a boy in love as I returned their greetings from my perch in the snow on that log.
Those little birds followed us the rest of the way to camp, flying from tree to tree as we ground dwellers slogged through the forest.
The first thing I did on arrival was shovel a couple small places on the deck to pile out some seeds for our chickadees, who dove in as if feasting on a Christmas dinner.
Only then did I come inside, pour a glass of wine, and climb into my bird watching chair to admire the view and the lively birds. Here's the sight I enjoyed.
Before long the wine in my glass slushed up, and my sweat soaked inside clothes chilled, so we are now hitting the trail back to where I parked my truck.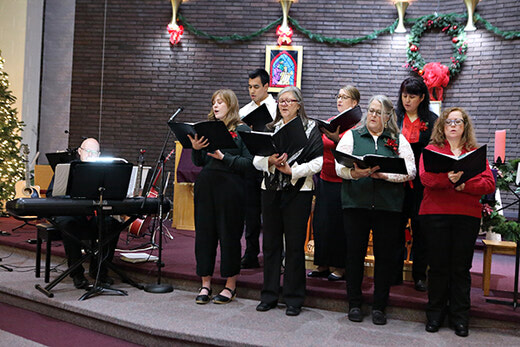 Tuesday, December 6, 2022
The Festival of Carols resumed its place in Sioux Lookout's holiday season lineup on Dec. 4 with an afternoon performance at Sacred Heart Church...