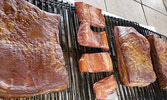 Dick's Hideaway:
A fall day
Dick MacKenzie - www.dickshideaway.com
Today was cloudy, with some rain sprinkles spitting at us occasionally. The temperature stayed cool. Dozens of flocks of Sandhill Cranes squawked overhead.
The Palace was a peaceful and pleasant place, filled with mesquite smoke and camaraderie as a buddy and I smoked 24 pounds of bacon, some salmon, two filets of arctic char, and a nice chunk of steelhead trout. Here are pictures of part of our stash.
We even built some flames in the firepit for good cheer.
Hard to imagine a better way to spend a day in early fall.