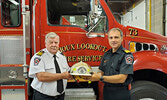 Dennis Leney promoted to deputy fire chief as Darrell Morgan steps down
Tim Brody -
Editor
A passing of the torch at the Sioux Lookout Fire Service.
Dennis Leney, a long-time member of the fire department, was recently promoted to deputy chief, taking over from the previous deputy chief, Darrell Morgan, who stepped down after serving for seven years in the position. Morgan will remain on as a volunteer firefighter until May 2022.
Leney, who joined the Sioux Lookout Fire Service 42 years ago, was a captain and training officer with the department.
"I just thought I could help out," Leney said. "We have a whole pile of brand new people and I'm just hoping I can use my past experience to help them out."
Leney wished Morgan well stating, "He's done a good job as the deputy chief, and I just hope I can fill his boots as well as I can."
Asked about his decision to step down as deputy chief, Morgan shared, "After much consideration, I felt that my business (Morgan Fuels) and our recent expansion into Manitoba, Saskatchewan and Alberta with our new company DMM Energy, that I could not continue to commit the time required to stay in the role of deputy chief for the Sioux Lookout fire Service."
"We have a great group of men and women on the Sioux Lookout fire department, and I feel I leave this role knowing that the department has great people to continue on into the future," he said, adding, "I stayed on to continue to support our chief and the entire department…through the transition at which time I plan to retire from the department after 35 years of service. This will give me more time to focus on business development with my companies."
Municipal Emergency Services Manager/Fire Chief, Robert Popovic said of Morgan stepping down and Leney stepping into the role, "As a firefighter in Sioux Lookout, firefighters have a full-time job or have a business to operate, and you volunteer your time to the service to attend training and fire calls. As a business owner, Darrell found that he could not adequately devote the necessary time to the service, and after May 2022, he will have 35 years of service. He chose to step down as the Deputy Chief, to allow a firefighter or officer to assume the necessary commitment of being the Deputy Chief. With Dennis' 42 years of experience as a firefighter, training officer and captain, the transition was seamless from Deputy Chief Morgan to Deputy Chief Leney. All the firefighters and officers thank Deputy Chief Morgan for all the knowledge and leadership that he provided over the years, and we look forward to keep working together until he finally retires after 35 years on the Sioux Lookout Fire Service."
Popovic said the Sioux Lookout Fire Service has hired four new firefighters this year, and each one of them have met the requirements to become probationary firefighters.
He said the fire service is continually looking for new firefighters, and all those interested are encouraged to submit an application. The applications are available online at https://www.siouxlookout.ca/en/living-here/joining-the-volunteer-fire-services.asp.