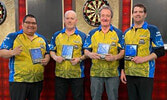 Dart team from Sioux Lookout Legion to play at national competition
Tim Brody - Editor
Some of the best dart players in Canada will be taking part in The Royal Canadian Legion, 2023 Dominion Darts Tournament, taking place in Aldergrove B.C, from April 28 to May 1 and a Sioux Lookout team will be there.
The team of Derrick Greene, Shane Sakchekapo, Garth Gastmeier, and Scotty Coulson earned their place at the national championship by winning the Edwin Switzer Memorial, Royal Canadian Legion Branch #78 tournament to represent the Legion in Sioux Lookout, then winning the Legion District darts tournament, and most recently, the Manitoba and Northwestern Ontario Command, The Royal Canadian Legion, 2023 Commend Darts Tournament.
The team played the provincial Commands Darts Tournament March 10-12 in Winnipeg, beating out six other teams with record of 15 wins, three losses.
Team members say they are excited to represent Manitoba/NOW at the national level.
"We're grateful for the opportunity. Me, personally, I'm more grateful to put Sioux Lookout on the map for darts and the Legion, we're just a small town in the north," Sakchekapo said.
"It's exciting. It's going to be an experience, that's for sure," Coulson added.
Gastmeier said he was excited about the experience as well, adding it has been a huge accomplishment getting this far.
"I've been playing darts for 27 years. This is the first time going to a dart event at a national level. Definitely proud of the group of guys that I'm playing with. We only have a small group of players at our club and for us to make it this far is a great accomplishment. Our Captain, Shane Sakchekapo has helped all our games just trying to keep up with his skill level. His positivity and love for the game keeps us all motivated. I would like to give a shout out to Charlie Roy for helping me learn the game many years ago. It's definitely exciting to be going to Nationals to represent Sioux Lookout and Northwestern Ontario," Greene commented.
To the best of their knowledge, the team believes this is the furthest any Legion darts team has ever made it.
Donations to support the team are being accepted at the Legion.
The team invites anyone who might like to try out the sport to drop by the Legion Wednesday evenings at 6:30 p.m. when the Legion's dart league plays.
"It's a cheap sport, $3 a night to play," Gastmeier concluded.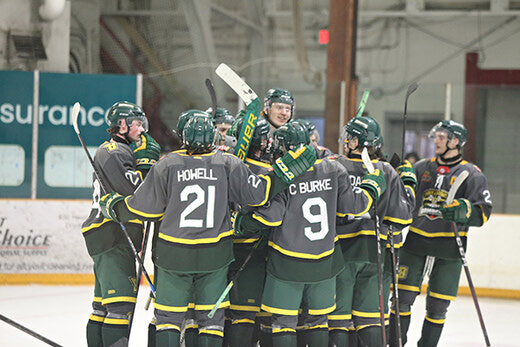 Tuesday, March 28, 2023
The Sioux Lookout Bombers won Games 1 and 2 of their best of seven SIJHL playoff series against the Wisconsin Lumberjacks last week in Sioux Lookout, packing The Hangar (Sioux Lookout Memorial Arena) for both games...