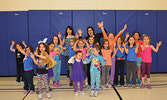 Dance and fitness studio flourishing under accomplished director
Tim Brody - Editor
ONYX Dance and Fitness Studio has made a resurgence in the community, boasting full classes for its programs.
Operating out of St. Andrew's United Church, ONYX Dance and Fitness Studio is currently running seven classes per week, over four days.
The Bulletin recently spoke with Studio Director Manuela Michelizzi, an accomplished dancer and instructor, about the studio, its programs, and about her love of dance which inspired it.
Tell us about ONYX making a comeback and the history of the studio.
ONYX was established in the fall of 2012. Prior to 2012, I had been instructing in Sioux Lookout but it was a dream to establish a dance and fitness hub for children and families. Dance is an activity that can be accessible to a wider population because the cost is a lot lower than other sports programs in town. In 2014, I made the decision to close the studio because it was becoming too expensive to rent our studio location. Why the comeback? Because the families in the community want this service for their children. Every small community in the region has a dance studio (Dryden, Fort Frances, Kenora and Red Lake). ONYX has highly trained and qualified instructors, so why not have the same opportunities in Sioux Lookout?! Our goal is to train a core group of students and eventually break into the competitive stream. With my contacts in Thunder Bay, we have the opportunity to take our students to professional workshops, competitions and performances. We are putting Sioux Lookout on the map for Dance instruction.
What programs is ONYX Dance and Fitness Studio currently offering?
ONYX is currently running programs in Ballet, Jazz and Hip Hop for children from ages 3-12. We are also offering an Adult Ballet class that has been highly popular. And as always we are offering Zumba Fitness classes… We are offering classes for participants age 3 to adults and seniors.
How long do programs run?
I ran a small introductory program during the month of November and we concluded with a small recital at the Festival of Trees event this past December. We officially re-opened our "doors" on January 7th. Our season ends in April and will conclude with a full recital program for the community.
Where is ONYX currently operating? How many programs are you running?
We are currently renting the hall at St. Andrew's United Church until we are able to find a permanent space. Affordable locations are very hard to come by in town and we are thankful that the United Church has embraced us and supported our programs. We are currently running seven classes per week, over four days. Our classes are currently full for this season except for Zumba Fitness, which accepts drop in participants every week (Monday's at 6:30 pm).
Are you the sole instructor for the studio?
I am the Director of the studio, but not the sole instructor. Rachel Kalas is a registered nurse that moved to our community recently. She is a talented dancer with Associate Instructor qualifications with the British Association of Teachers of Dancing. Rachel is currently teaching all of our Ballet programs. I am currently instructing the Jazz, Hip Hop and Zumba Fitness classes… Our instructors have full-time jobs outside of our instructing of dance and we are essentially not making a profit from the classes. We do it because we LOVE dance and want to share this love with our students. Our goal is also to reach as many students as we can. Families are sometimes struggling to make ends meet and children are faced with the reality of not being able to do extra-curricular activities. Keeping our registration fees low is our number one priority. Dance should be accessible to everyone regardless of economic status.
I understand you are fundraising to purchase portable dance barres for the studio? Tell us about that.
Dance Barres are as essential to dance as music. Barre work builds the core foundation of all technique acquisition. They are a necessity! Because we are currently (and indefinitely) renting space that is not our own, we cannot construct and mount barres on the walls, so we are hoping to purchase portable barres. We have established a GoFundMe page (ONYX Ballet Barre Fund) if any community members would like to make a donation. We are also looking at having some fundraisers in the community, including a Dance-a-thon!
Are there other ways the community can support the studio?
We would gladly accept donations of dancewear or shoes for our growing students. Every little bit helps families, especially when the cost of living is so high in a small community already.
Tell us about your own love of dance. Has it been a part of your life from a young age?
Oh yes. I have been dancing since I began walking. I have a very long list of accreditations, qualifications and awards, but the short version is that I am a classically trained dancer, specializing in Ballet, Tap and Jazz. I have competed internationally and taken part in countless shows, performances across North America. At the age of 14, I was a Showstoppers American Dance Champion in Ballet. I continued to win many scholarships and awards and had the opportunity to train under many professional dancers and choreographers from Canada, the United States and internationally. I was mentored by the late Mr. Al Gilbert of Hollywood California, who was the famous dance instructor for Michael Jackson, and many other musicians and performers. I was accepted to the Teacher Training Program at the National Ballet School of Canada at the age of 17. I am qualified to instruct the Al Gilbert Dance Syllabus and the Cecchetti Ballet Method. I have been instructing dance for the last 20 years and many of my students have gone on to become professional dancers and instructors also. After many years studying classical dance, I ventured to Europe after university and trained in Ballroom and Latin Dance. I trained with the Italian National Ballroom and Latin Dance Champions. During my time in Italy, I was introduced to Zumba Fitness and received my license to instruct. Before moving to Sioux Lookout, I was hired as head coach and was a founding member of the Lakehead University Dance Team.
How long has dance been a special part of your life?
I began taking classes at the age of four. By the time I was in high school, I was dancing / training at least 25 hours a week. There was always a performance or competition to work toward. Being a dancer was always the end game and because of my hard work and perseverance, I was able to achieve many of my goals. I have to account a lot of my success to my parents and their dedication to me and my craft. There was nothing that they wouldn't have done to make sure I had whatever I needed. They sacrificed a lot for me and for that, I am eternally grateful. If you are reading this Mom, I love you!
What do you enjoy about dance?
Dance for me, is like breathing. I am not me if I am not dancing. It's in my heart and soul. It was always the best way to express myself, to relieve stress; it was my whole life for a very long time. It taught me discipline, perseverance, and compassion on top of all of the physical benefits. They say dancers are different than the average human being, and unless you are a dancer, you may not understand what that means. We have the ability to move through a space effortlessly. We aren't afraid to try and try and fail, but never lose the drive to try again. We don't compete against others, but work at making all of our peers better. Dancing professionally a lot of the time is about failure, but we use the misfortunes as a learning process and a chance to work harder and make yourself better. My studio mates growing up were my family. We spent countless hours together in the studio or travelling together. They continue to be a part of my life and we all keep in touch. I spent the majority of my childhood and youth in the dance studio. I missed out on a lot of the "regular" stuff kids do growing up, but I wouldn't trade it for anything.
Is there anything else you would like to share?
Please come out to a class. No one thinks they are a "dancer", but you don't need to be. If you love to move, want to get a good work out, come try a class. I promise you will feel great and enjoy every minute.