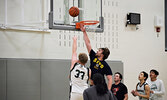 Current, former Warriors face off in alumni basketball game
The Sioux North High School (SNHS) junior and senior boys' basketball teams suited up against former Warriors during an evening of alumni basketball games on Dec. 18.
The alumni Warriors defeated the junior boys 89-63, but the seniors got revenge defeating the alumni 62-60.
All proceeds from the evening went to the SNHS basketball teams.