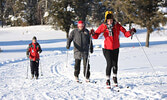 Cross-country ski club hoping for more snow
Jesse Bonello - Staff Writer
The Sioux Lookout Nordic Nomads Cross-Country Ski Club is hoping to see more snow in the coming weeks as they hope to prepare and hit the local ski trails.
"We're praying for much more snow. The only thing we have groomed right now is the golf course, and we don't have enough snow to groom trails. Hopefully, over the next couple of weeks, we can get some snow. We're keeping our fingers crossed," said Nordic Nomads President Ron Laverty.
The club recently held a registration day at the Sioux Lookout Memorial Arena, which saw over 35 children register for programming.
"We had our registration day on December 7 at the arena, and we registered 38 children for the Jackrabbit, Bunnyrabbit, and Track Attack program. We also did ski waxing where we raised 440 dollars for the club," said Laverty.
"Throughout the season, generally on Saturdays, we'll have ski lessons for adults and people who want to come out and learn," he added.
The club regularly maintains approximately 24 kilometres of trails. Laverty thanked a variety of community members who logged many hours cleaning and grooming trails.
"We had around 250 volunteer hours put in by different people in the community to help clean, groom, and brush the trails. We'd also like to thank the Ministry of Natural Resources and Forestry fire crews that came out and helped us too," he said.
Those interesting in registering can contact Laverty at 737-8998.
People can find out more about the club and keep up to date with its happenings by looking up Sioux Lookout Nordic Nomads on Facebook.