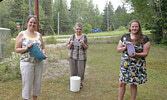 Crochet Contest
Kirsten Barrett was the winner of this year's Blueberry Festival Speed Knitting / Crochet Contest sponsored by Drayton Cash and Carry with 29 rows.
Coming in a second was Danielle Dykes with 22 rows, and in third place, Ingrid Cummings with "not as many rows as she worked."
The winners each received a gift card to Drayton Cash and Carry to spend as they please.
Drayton Cash and Carry Owner Dorothy Broderick said it was a nice way to spend a few hours and thanked contestants for their participation.
(Pictured from left: Barrett, Cummings and Dykes.)