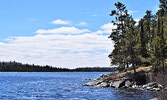 COVID-19 restrictions impacting lodges, camps, tourism industry
Jesse Bonello - Staff Writer
Last week Prime Minister Justin Trudeau announced another agreement to extend the Canada and U.S border closure for an additional 30 days to limit the spread of COVID-19, leaving borders closed until June 21.
Lodges and fishing camps in Sioux Lookout said the border closures, and other COVID-19 restrictions, are greatly affecting their ability to operate, with the vast majority of their clientele coming from the United States.
Lodges and camps are able to operate tackle shops, restaurants, and house essential service workers in the meantime but, when it comes to offering fishing-related services and accommodations, many are dealing with increasing reservation changes, cancellations, and lost revenue.
"Our customer base is mostly American, so with the border and travel restrictions we're not having any Americans come up at this point… We're looking at June 21 would be the earliest and then I'm thinking what kind of restrictions will they have, so it's a huge impact on our business," said Alina Hall, Red Pine Lodge and Outposts Co-Owner.
"Most of our clientele is repeat, so we have a lot of regulars that come during the same week in the same cabins and it's crushing them as well. We're getting phone calls daily and they're having to either change their plans, potentially coming up later in the season, or wait for next year.
"It's an uncertain time and we're going to hang in there, but it's certainly a challenge," she said.
"We are greatly affected because 99 per cent of our clientele come from the US, so they can't come. We're trying to figure out a game plan here," said Adele Brunton, Frog Rapids Camp Co-Owner.
"We're closed for the season. We shut down for the season… We offer accommodations for essential service workers that are screened like Valard and a mining company I've been dealing with for the last three years," said Darrell Donnelly, Donnelly's Minnitaki Lodge Owner.
"Our typical customers are 98 per cent American," he added.
"The border closure is pushed to June 21, which means that a lot of camps and lodges are affected tremendously as long as the border is closed. I know in our situation, probably a good 75 per cent of our business comes out of the US market. Having said that, the other thing working against us is any fishing lodge in northwestern Ontario has not been deemed an essential service, therefore we're unable to take even Canadian fisherman. As a whole it's devastating until they can lift those restrictions. It's going to compromise people's businesses and their ability to operate," said Jackie Duhamel, Anderson's Lodge Co-Owner.
"The reality here, for this business, is we employ about 45 people in the season between guides, chefs, dockhands, servers, and cleaners so they're all sitting at home waiting. It's certainly a substantial impact.
"We are very diversified in what we do at Anderson's. We're able to, with the restaurant for example, offer takeout and delivery seven days a week by calling by three o'clock that day to place an order. We have menus posted online, and we also have a retail space where we carry a great supply of rods and reels, tackle, clothing, and giftware. As of yesterday (May 19) we were able to open that with the retail restrictions of a Plexiglas barrier at the counter, sanitizing routines, and limiting the number of people in the store. Between the restaurant and the retail that's all we're able to do right now," she explained.
Gerry Cariou, who has been Executive Director of Ontario's Sunset Country Travel Association for over 20 years, said border restrictions could result in an estimated loss of around 50-million-dollars in economic activity across Sunset Country by the end of June.
"If you look at contribution to GDP (Gross Domestic Product) in this area, if you look at Ontario, tourism in general in Ontario contributes more to the Gross Domestic Product of the province then forestry, agriculture, and mining combined. That gives you an idea as to the provincial picture on the importance of tourism as an economic sector. That is definitely reflected in northwestern Ontario," said Cariou.
"Ninety-nine per cent of tourists who stay at lodges in northwestern Ontario and Sunset Country are Americans, so there's no tourists here right now as a result of the border closures. It's a total loss is how I would classify it for the direct tourism business like a lodge, resort, or hotel. With June out of the picture, we're in the tens of millions-of-dollars in economic losses.
"The direct impact is tens of millions-of-dollars in my estimate. The indirect impact would be another several million dollars, so that's the boat dealers, the bait shops, the restaurants, which is huge… By the end of June, I'd say we'd be at 50-million-dollars lost in economic activity in this area alone. That would be my estimate based on direct, indirect, and induced economic impacts," Cariou explained.
Kenora Riding MP Eric Melillo recently participated in the Standing Committee on Finance (FINA) on May 21, providing him an opportunity to question witnesses about the need for support and clarity for the tourism industry.
"Questioning Stratford Festival Board of Governors Chair Carol Stephenson, MP Melillo drew comparisons between the annual theatre festival's contribution to Stratford's economy, and the importance of the tourism industry to the Kenora riding," a May 22 media release informed.
"Right now, we have many small businesses who are relying on those tourists; not just hotels and camps, as you've previously mentioned, but restaurants, retail stores, and a number of other businesses who are being hurt by this," said Melillo.
"In addition to financial support, what tourism-dependent businesses and communities need right now is clarity. Camps, festivals, hunting and fishing operations – they need to know whether they will be able to have a season or not, and what that will look like," he added.
Duhamel said Anderson's Lodge will be prepared to operate, in any capacity, whenever changes are announced but, among other lodges and camps, Duhamel said operators and owners don't know when that will be.
"We expect to be operating by July. Is that a reality? We have no clue. We're ready to go whenever we're given the green light in whatever capacity that is. The government gives us no more information than the public receives on a day to day basis. Even though we have organizations like NOTO (Northern Ontario Tourist Outfitters Association) or Sunset Country fighting on the industries' behalf, our government officials in this part of the world seem to be doing nothing in respect to taking care of businesses. It would be different if there was regular communication from them, but there's not… We have no sense of what the summer will bring," said Duhamel.
In Sunset Country's most recent newsletter on May 21, NOTO provided an update on their efforts to get Ontario tourist outfitters included on the Essential Workplace List.
"On May 13th, 2020, NOTO sent a joint letter with Indigenous Tourism Ontario, Camping in Ontario and TIAO to encourage the Premier to include our sector of tourism on the Essential Workplace List and officially allow businesses in this sector to begin preparations. We included a guideline document that we have prepared to help guide business owners on how to safely bring staff back to their facilities to begin work. We also included the guideline documents that Camping in Ontario produced," the update informed.
NOTO, alongside Indigenous Tourism Ontario (ITO) and the Tourism Industry Association of Ontario (TIAO), have been appealing to the Provincial and Federal Governments to provide support for all seasonal tourism businesses across Northern Ontario.
"There are over 1,000 seasonal lodges, resorts and campgrounds across Northern Ontario that are currently struggling to survive this unprecedented COVID-19 pandemic. These businesses cater to anglers, hunters, outdoor recreationists, and those seeking Indigenous cultural experiences who are from Canada and the United States, but also all over the world. These businesses and their guests contribute over $400 million in GDP which is retained in Northern Ontario during a 4 to 5-month operating season," a joint press release informed on April 21.
"Optimism is a notable quality, but what we must deal with is the realism that many small northern tourism businesses will not survive if they do not get timely and realistic help. We are asking our Federal and Provincial governments to focus on funding that will have a meaningful impact toward the survival of this industry," said Bob Garson, NOTO President, in the press release.
"Tourism operators are in the midst of planning for a delayed start to an already short season or not opening at all this year," he added.