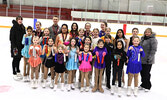 COVID-19 precautions in place as Sioux Lookout Skating Club begins new season
Reeti Meenakshi Rohilla -
Staff Writer
The Sioux Lookout Skating Club will open its doors for this season on November 3, continuing to offer its programs with caution during the pandemic. A member of the skating committee, Heather Meekis said, "With COVID, everybody has got a lot on their mind and a lot of extra stress. So we're just trying to get kids into a routine of skating, which is healthy and a life skill; to get on the ice, to go back to a normal routine and learn skating."
Club President Katie Positano said that they are currently offering a five-week CanSkate program. It is a teen and adult skating program, aiming to teach older people how to skate and get more comfortable with it.
Registrations are open and anyone interested can email [email protected] to register or contact the Sioux Lookout Skating Club via their Facebook page.
She added, "We are looking to start a STARSkate program for those kids that are wanting to move up in figure skating. Keep your eyes open, STARSkate is starting in January."
According to Skate Ontario's website, The Sioux Lookout Skating Club has been around for over 45 years, and has grown to over 140 skaters, including their satellite program in Lac Seul. In the past two years, the club has had two skaters qualify and go to the Provincial Championships.
Positano said that for safety purposes during COVID, they have restricted the total number of skaters per session. According to a post on the club's Facebook Page, the maximum number of skaters per session is 20. Positano said that similar to other user groups in the community, "Wear a mask and you come to the arena. You put on your skates, you take off your mask and you can go on to the ice." She mentioned that the club is currently recurring for a regional level certified coach.