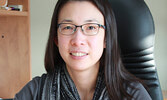 COVID-19 percent positivity rate dropping in NWHU catchment area

Tim Brody - Editor

A drop in the positivity rate for COVID-19 in the region.
As of March 14, the Northwestern Health Unit (NWHU) was reporting the region's seven-day percent positivity rate was sitting at 19.1 percent. NWHU Medical Officer of Health Dr. Kit Young Hoon said percent positivity had been, "sitting at about 25 percent for some time now."
Young Hoon shared with local media on March 8, "To be clear, our overall rates are still very high compared to the rest of the province, however our peak may now be ending in some areas."
She added, "In addition, there are signs of decreasing hospitalization trends in the recent weeks. We will keep monitoring the data over the next few weeks to see whether these preliminary trends continue."
Young Hoon thanked the public, "for their continued dedication in protecting our region's most vulnerable residents. There are people across our region who are at higher risk of severe outcomes from a COVID-19 infection for various reasons. By wearing a mask, keeping a safe distance from others and staying home when you are unwell, you help to keep yourself and others healthy."
She further stated, "We are still offering COVID-19 vaccines to anyone who would like a first, second or booster dose of the vaccine. Please book on our website (https://www2.nwhu.on.ca/covid-19/covid-19-vaccines/) or call your local Northwestern Health Unit office for more information."
Young Hoon said treatment for COVID-19 is available for some high-risk individuals.
"Eligibility for treatment is based on age, vaccination status, and other medical conditions you may have. If you test positive for COVID-19 or have symptoms, and believe you may be eligible for treatment, call your health care provider, your local assessment centre, or Telehealth Ontario. It is important that this is done as soon as possible because treatment must be started within five to seven days of symptom onset," she said.
Tuesday, March 15, 2022
The Lac Seul Police Service are warning the public to be aware of a possible "bad batch" of meth that may be circulating in the area...