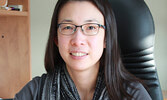 COVID-19 'has to be something we learn to live with', says NWHU Medical Officer of Health
Tim Brody - Editor
While the Northwestern Health Unit (NWHU) was reporting on April 5 that the seven-day percent positivity rate for its catchment area was similar to the provincial percent positivity rate, NWHU Medical Officer of Health Dr. Kit Young Hoon says COVID-19 is not going away and, "it has to be something we learn to live with and figure out how to live with."
Young Hoon shared with area media on April 5, "I'm pleased to report that the case numbers in the region have continued to decrease and are now more similar to provincial rates. Our current seven-day percent positivity is 16.5 percent, compared to the province's 16.2 percent."
She added, "As such, we're aligning our recommendations regarding physical distancing capacity limits with provincial recommendations."
That being said, she shared, "Across the province, there's been an increase in percent positivity due to lifting of restrictions and although we have not yet seen an increase locally, there is a possibility that this will occur in our region as well. There's still some communities in the region that are seeing a large number of cases. More information on this can be found on our website, or some of our partners' websites."
Young Hoon said COVID-19 is circulating. "It is now considered an endemic virus. That means it is circulating. There is definitely a risk of getting COVID-19 when you are socializing with other people. So, really that is a risk assessment for individuals. They need to be aware that risk exists and there are ways that you can prevent the likelihood of getting COVID-19, so people should be considering things such as masking, physical distancing in indoor public settings, and should consider how large of a social group they want to gather with, as that also impacts risk."
She added, "Right now we're dealing with the Omicron variant. So, there is a lower risk of hospitalization with the Omicron variant, which means that at this point you're trying to balance the risk of COVID-19 with the potential risk of restrictions or some of those public health measures when deciding how much you want to lose some of the prevention measures. If there were in the future to be a different type of variant that's more severe, than this situation will be different, and the recommendations would be different and the need for restrictions would also be different."
Young Hoon recommends that individuals assess their personal risk, and the risk of those they gather with, to determine whether they should wear a mask and practice other prevention measures.
"Masking in indoor public spaces is an effective way of protecting yourself and others from getting and spreading COVID-19. I remind the public to show kindness to one another and respect other's choices during these times."
The Northwestern Health Unit is changing the frequency with which it will update its website.
Young Hoon explained, "Due to the decreases in new cases, the eligibility for PCR testing and access to rapid tests, our COVID-19 data is becoming less accurate to assess risk using short-term data. To ensure we share valuable data, we are moving to updating our website weekly on Wednesdays. This will better show trends rather than short-term fluctuations that we're seeing due to our small numbers. We hope this shift will provide more meaningful information to the residents of Northwestern Ontario. If the risk to local residents changes rapidly, we will inform the public via media, websites and social media as soon as possible and will not wait for the weekly update."
"Lastly, as a reminder, if someone has symptoms or tests positive, they should visit www.ontario.ca/exposed for more information on what to do next. Be sure to read every question very carefully, as sometimes an answer is dependent on vaccine status, previous infection, or other factors," Young Hoon concluded.