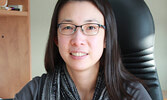 COVID-19 cases remain low in NWHU catchment area
Tim Brody -
Editor
As of July 30, there were no active COVID-19 cases in the Northwestern Health Unit (NWHU) catchment area.
Dr. Kit Young Hoon, Medical Officer of Health at NWHU, said numbers have remained low in the area and that is a trend she is pleased to see continue.
However Young Hoon cautioned, "We must prepare now for cooler weather which leads to more time indoors and typically more respiratory illnesses circulating. It is likely that we will see an increase in cases in the fall months and the vaccine can help to protect you and your loved ones. By getting the vaccine now, you will be protected when or if cases increase."
Young Hoon informed regional media last week, "We have reached another vaccine milestone in our area. Over 80 per cent of those aged 18 and older in our region now have at least one dose of the COVID-19 vaccine. In addition, 67 per cent of people aged 12 and older in our area have received two doses of the vaccine."
With the start of the new school year approximately a month away, Young Hoon shared, "We do work closely with school boards and will be supporting them as they prepare to go back to school. We would also be using provincial guidance on how best to support students and staff to ensure that they're protected against COVID-19 when school restarts."
She added, "At this point, there is no available vaccine for those who are below the age of 12 and our vaccination rates of those who are 12 to 17 is still limited. It's between 60 and 70 per cent for first dose, and significantly lower for second dose and so therefore it's not a good enough protective level to ensure herd immunity of the students' population when they return to school."
Young Hoon believes there will be an ongoing need for things like masking, physical distancing and cohorting when classes resume.