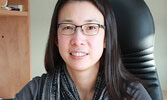 COVID-19 cases dwindle in NWHU catchment area
Tim Brody -
Editor
The number of active cases of COVID-19 in the Northwestern Health Unit's (NWHU) catchment area had dwindled to three as of June 7.
Last week NWHU reported just one new positive COVID-19 test result between May 31 and June 6.
As of May 31, there were 12 active cases in the NWHU catchment area.
NWHU Medical Officer of Health Dr. Kit Young Hoon told regional media on June 1, "Seeing lower numbers is very encouraging and I thank the public for practising prevention measures and for getting vaccinated. Vaccinations, in addition to public health measures are helping to lower case numbers and stop the spread of COVID-19, both locally and across the province."
As of June 7, NWHU had administered 59,186 vaccine doses, bringing the percentage of residents in its health hub areas 18 and over who have received a first COVID-19 vaccine dose to 69.9 percent.
People can find out more about getting vaccinated at: https://www.nwhu.on.ca/covid19/Pages/booking-COVID19-vaccine-appointment.aspx.