Councillor Joyce Timpson reflects on 2022 NOMA Conference and AGM
Tim Brody - Editor
Sioux Lookout Municipal Councillor Joyce Timpson represented the community at the Northwestern Ontario Municipal Association (NOMA) Conference and AGM in Fort Frances, April 27 to 29.
Timpson said she was privileged to attend the event, which had about 100 participants attending in-person and many attending virtually.
"I was the only representative able to make it from Sioux Lookout in person. Of interest to Sioux Lookout would be the presentation of Nuclear Waste Management Organization (NWMO). NWMO and the citizen's group, We the Nuclear Free North, had adjacent booths at the Trade Fair and NWMO presented its plan for the transportation of the nuclear waste from Southern Ontario if Ignace is chosen for the repository. Because many in the public have expressed concern about that possibility, citing transportation and effects on the water table as major concerns, I am exploring the possibility of NWMO coming to Sioux Lookout for a public meeting with a panel discussion that includes experts with alternate opinions about the safety issues," Timpson shared.
"Another presentation that was of interest was from the Municipal Property Assessment Corporation (MPAC)." Timpson said MPAC is exploring with municipalities how they deal with increased assessments and the effects on taxes. "I feel it is important for Council members to attend these conferences periodically. We do not exist in a bubble, and they enrich our understanding of our municipality within the broader social and economic context of the region, province and country. They also open the door for Council members to be involved in advocating for policy changes in the north. Meeting and sharing with elected members and staff of other municipalities in the informal segments of such conferences is invaluable and an opportunity to find ways to become stronger advocates for our communities," Timpson concluded.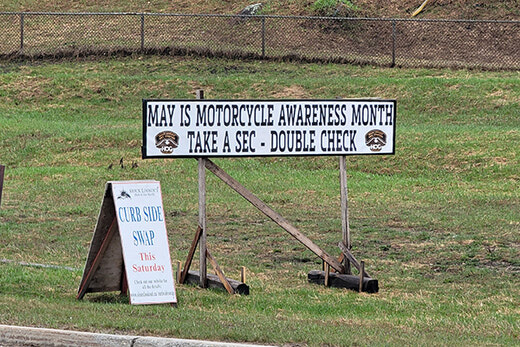 Tuesday, May 17, 2022
"Take a sec and double check!".
It's a timely reminder for motorists as temperatures rise and area roadways begin to see more motorcycle traffic...