Councillor-at-large candidates answer community's questions at All Candidates Forum
Tim Brody - Editor
Sioux Lookout's housing crisis and labour shortage were two community challenges discussed frequently by councillor-at-large candidates at an All Candidates Forum held on Oct. 12 in the Upper Legion Hall.
Organized by local residents Anne Saltel and Dick MacKenzie, who also moderated the event, Municipal councillor-at-large candidates Reece Van Breda, Joan Cosco, Dan Rioux, Luc Beaulne, Joyce Timpson (incumbent), Cory Lago (incumbent), Brent Wesley, Joe Cassidy (incumbent), and Manuela Michelizzi were all in attendance to answer questions from the community.
Candidates were given three minutes to introduce themselves and their platforms at the beginning of the evening and were given three minutes to make a final pitch to voters at the end of the evening.
The rest of the of the evening was dedicated to answering questions members of the public had brought forward. Anyone wishing to ask the candidates a question was asked to submit their name before the forum got underway. Names were drawn at random and those picked were able to ask their question to the candidates directly.
Questions ranged from how candidates would work to pursue additional long-term care beds, how they would reduce municipal debt, what they thought about implementing a rehabilitation centre to help people on the street dealing with addictions, and how candidates planned to work more closely with area First Nations.
With regards to pursuing 76 additional long-term care beds promised by the previous Liberal Premier and current Conservative Premier, Candidates said the pressure needed to be kept on politicians to make good on that promise, with some candidates stating they felt Mayor Doug Lawrance and members of council were doing a good job lobbying on the issue.
On the topic of reducing municipal debt, pressuring provincial and federal governments for more funding was brought up, as well as reducing costs such as the cost of policing.
Candidates agreed a rehabilitation centre is needed in Sioux Lookout. They also agreed that more should be done to strengthen Sioux Lookout's relationship with area First Nations, suggesting such measures as joint meetings between Sioux Lookout Municipal Council and area chiefs and councils.
Approximately 25 people attended the forum.
Asked his thoughts on the evening, MacKenzie shared, "A friend commented to me last night that she had revised her assessment of one candidate based on answers to questions at the forum. I had a similar experience." He added, "I was disappointed with the small turnout, but those who came were treated to a cornucopia of excellent information from as good a field of candidates as I can ever remember."
A video of the forum can be viewed on the Sioux Lookout Public Library's YouTube channel at https://www.youtube.com/watch?v=_2Ssy7UKrEA.
Voting began in Sioux Lookout, using Internet and Telephone voting, on Monday, October 17 at 8 a.m. and will end on Monday, October 24 at 8:00 p.m.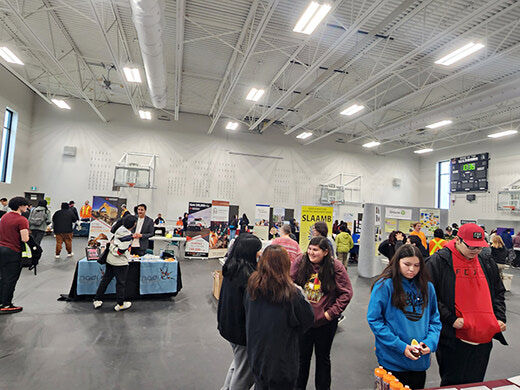 Tuesday, October 18, 2022
The Sioux Lookout Area Aboriginal Management Board (SLAAMB) hosted a Career Fair 'Choosing your Career Path & Future' at Sioux North High School on Oct. 13...