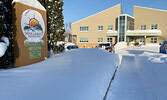 Council expresses support of proposed 2022 budget
Tim Brody -
Editor
Members of Sioux Lookout Municipal Council have expressed their support of the proposed 2022 municipal budget, which proposes a tax levy increase of 1.9 percent.
A first draft of the budget was presented to council on Jan. 25.
In her presentation, Municipal Treasurer Carly Collins informed Council that the Municipality would not be receiving additional restart funding. She also informed that "2022 property assessments are based on the 2020 MPAC assessments. MPAC has frozen assessments at the 2020 level, until 2024."
Collins shared, "In addition to the loss of taxation revenue as a result of the Provincial direction to the Municipal Property Assessment Corporation (MPAC) to freeze the property assessments at the 2020 level (which, had the rates not been frozen, they would have yielded approximately an addition of $435,000 in taxation revenue for 2022), the Municipality also saw increases in the following areas:
• Insurance - $41,000
• Kenora District Services Board - $25,000
• Hydro – anticipating 2% increase in hydro rates in 2022, which would equate to approximately $14,500 in additional costs.
• Other services' increases due to the significant increase in inflation over the past year, as well as costs related to employment contracts for both unionized and non-unionized staff, totaling approximately $24,500.
"Additionally, Council approved a $110,000 contract for government relations services with respect to efforts to normalize our policing costs. Finally, the one-time COVID-19 relief funding that was provided to municipalities in 2021 will not be available in 2022, yet the Municipality continues to experience additional operating costs associated with Provincial guidelines respecting the COVID-19 pandemic.
"Given these factors, staff worked cooperatively and diligently to bring forward a budget that was as lean as possible, while still maintaining service levels."
Staff asked for an increase of $215,120 to the municipal operating budget.
Collins then went through each department, citing where savings had been found and where increases had been requested.
Council was also presented with two funding requests - $1500 for the Cedar Bay Trail Collective to cover liability insurance and groomer insurance costs, and a $40,000 funding request from the Sioux Lookout Healthy Community Task Force, on behalf of Sioux Lookout OPP, to leverage $80,000 in provincial funding for the installation of CCTV video surveillance on Front Street to assist with community safety.
Council approved the $1500 funding request, but asked that a report be prepared, as well as a presentation, regarding the $40,000 request.
New capital projects for 2022 included upgrades at the Sioux Lookout Airport, a new dock ramp at the Town Beach, the replacement of gym floor coverings at the Recreation Centre, resurfacing work on Moosehorn Road, and a new ice resurfacer.
None of the capital projects will be funded through the 2022 tax levy, instead the funding will come mainly from reserves, with some monies coming from Federal Gas Tax funding, and long-term debt.
2021 capital projects being brought forward to 2022 were also listed in the budget.
Collins' presentation, as well as the first draft of the 2022 budget, can be viewed on the municipal website at: https://bit.ly/32KBq0B. Hard copies can be obtained at the Municipal Office.
Brian P. MacKinnon, Manager of Corporate Services/ Municipal Clerk, informed, "Public input into the Budget has been ongoing throughout the fall. There have been opportunities for organizations to submit donation requests, and the public is always welcome to provide input via [email protected]. We are working to hold a Special Council Meeting in early February to enable Council to make a decision with respect to the CCTV Grant donation request of $40,000. Any other feedback received on the budget by the Treasurer between the January 25th Budget Meeting and February 14th will be provided to Council at the Regular Council Meeting of February 16th, during the final deliberations on the Budget."
Municipal CAO Michelle Larose stated, "Staff is pleased that Council fully appreciated the various factors and constraints facing the Municipality in 2022 and is likely to approve a budget with a 1.9% tax levy increase. For a home valued at $171,000 (this is the median value of homes in Sioux Lookout), this will equate to a total increase of $62.50 on their 2022 tax bill. While the Municipality acknowledges that tax rate increases are never popular, they are necessary to ensure the ongoing delivery of programs and services to meet the needs of the community."
The 2022 municipal budget is expected to be approved, and associated by-laws adopted, at the February Regular Council Meeting.