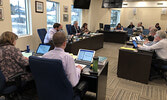 Council directs 0.7 per cent tax rate increase for 2019
Tim Brody - Editor
Sioux Lookout Municipal Council has given new direction to Municipal staff for what they would like to see the residential property class general tax rate come in at for this year.
At Council's regular meeting on March 20, Council voted to defeat a proposed 1.7 per cent increase that they had asked Municipal staff to finalize the 2019 budget at on February 28.
Municipal Staff came to the meeting on March 20 with a budget they had pared back to 1.63 per cent.
Council has now directed Municipal staff to come back with a 0.7 per cent tax rate increase to the residential property class, with 50 per cent of the reduction to achieve that coming from transfers to reserves and the other 50 per cent coming from cuts in operating, and/or capital, or through increases in revenue.
Councillor Cal Southall said, in his opinion, determining the tax rate is one of the most important decisions council makes each year.
"Our taxes are the highest in northwestern Ontario and people daily are complaining to me about the cost of their taxes and trying to live here. We have to address that. We have to look at that… Realistically it's hurting people. People are talking about moving out of here," Southall said.
"I knocked on 1400 doors during the election and taxes came up at five doors… I freely admit our taxes are higher than other regional municipalities… there are many factors why our taxes are higher. I think we've worked hard and staff have worked hard to get a good budget. I think we provide good service," Mayor Doug Lawrance noted.
Southall said, conservatively, he had received 20 emails and texts in the last month from people concerned about taxes.
"I support what Councillor Southall said," stated Councillor Joe Cassidy. "I said it at the original budget meeting that we should be able to live within the $370,000 we're getting from increased MPAC assessments."
He added, "We're there to question what's getting approved in the budget that we are voting on."
Cassidy further stated, "We know we have development coming. The town is going to boom. Let's let the boom happen before we start asking for more."
"We are unsustainable as far as I can see, especially the rural and the lakeshore properties. They are just taking a beating," Southall remarked.
Councillor Don Fenelon asked, "Development is going to happen. Do we want development within the Municipality or don't we?"
"Look at the state of the underground we've got," he added. "We haven't addressed that in 25 years. When are you going to address it?"
Councillor John Bath commented, "We've done a lot of capital work over the years and we continue to do a lot of capital work… we can't stop doing that. If we just maintain, we can sit at the cost of living, and at the MPAC rate, we don't do anything… I don't like paying taxes any more than anybody else."
Councillor Joyce Timpson stated, "One of the things that's always bothered me is that Council does not appear to have any say in things we observe to be unnecessary, or we don't get the answers for why they are necessary. The Treasurer has said questions about the operations (budget) that weren't concerning variance were not answered. I feel those are discussions Council should be a part of. If we perceive waste, we should be able to talk about it."
Councillor Cory Lago shared, "There is going to be growth; it's coming. Every year we're seeing increases in the amount of assessments in our community for residential… as it goes up, we're taking in more money. Next year MPAC's going to come in and we're going to have a new assessment and the total assessments going to be higher than what it is this year and we'll be collecting more money. We're averaging over three per cent a year in MPAC."
The final tax rate for the Municipality of Sioux Lookout's 2019 Budget still has to be ratified by council at a future meeting.