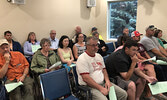 Council continues to investigate a possible MAT Tax in Sioux Lookout
Tim Brody - Editor
Sioux Lookout Municipal Council has decided to exclude tourist camps, tourist outfitters and campgrounds from a Municipal Accommodation Tax it is considering.
Council made the decision at their July 17 regular meeting.
Council has asked staff to consider for inclusion all other eligible categories of transient accommodation, which would include hotels, motels, bed & breakfasts, Air B&Bs and hostels.
Council also asked staff to provide revenue projections for a Municipal Accommodation Tax at rates of 1%, 2%, 3%, and 4% and to undertake further research on the implications of imposing the MAT on non-private sector accommodations.
Sioux Lookout Mayor Doug Lawrance opened discussion on the matter by suggesting tourist camps, tourist outfitters and campgrounds be exempt from the proposed Municipal Accommodation Tax.
Councillor Joyce Timpson agreed stating, "I think it's very complicated with the tourist camps with the fact that half of them are not within the Municipality and may not be eligible and we have to keep it fair."
Councillor John Bath agreed stating, "My concern has always been if we bring in the tourist operators it created a very uneven playing field."
Other councillors in attendance for the meeting agreed.
Lawrance asked staff if a further report on the proposed Municipal Accommodation Tax could be brought back to council in September.
In her written report to council, Municipal Treasurer Christy McIntomney shared as background information, "The 2017 Ontario Budget, A Stronger, Healthier Ontario, granted authority to Ontario Municipalities to impose a mandatory Municipal Accommodation Tax, which would apply to hotels, motels, bed & breakfasts, participants operating a common platform for individual accommodators, and all other accommodators with a roof renting consecutive room nights of under 30 days. Municipalities that adopt the Municipal Accommodation Tax shall share at least 50 percent of the Municipal Accommodation Tax revenue to an appropriate eligible Tourism entity."
Lawrance stated at the meeting the Municipality hadn't yet confirmed who that "appropriate eligible Tourism entity" might be.
McIntomney added in her report, "The Municipality's portion of the revenue is unrestricted. It could be used to fund capital improvements, repairs and new construction of tourism-related facilities, programs and services including Recreation, Culture, Parks & Gardens and initiatives in Economic Development."
Council has been discussing the possible implementation of a Municipal Accommodation Tax in Sioux Lookout since March of 2018.