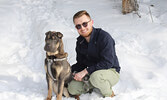 Connor Howie elected Councillor-at-Large
Tim Brody - Editor
Connor Howie has been elected Councillor-at-Large in Sioux Lookout's Municipal By-Election.
During the official voting period from Monday, Jan. 20 – 27, Howie received 338 votes.
Darlene Angeconeb received 270 votes, Michael Quince – 230 votes, and Nick Costello – 97 votes.
Voting was conducted through internet and telephone voting.
In total, 935 votes were cast (plus four votes of abstention) representing a voter turnout of 32.4 per cent of the 2895 eligible voters in the Municipality of Sioux Lookout.
An official "swearing in" ceremony will take place at the Feb. 19 regular council meeting.
The current term of Council ends on November 15, 2022.