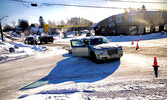 Collision temporarily closes Wellington Street
Reeti Meenakshi Rohilla -
Staff Writer
Wellington Street in Sioux Lookout was temporarily closed at the intersection of Fifth Avenue on February 10 due to a motor vehicle collision involving two vehicles.
The incident took place at approximately 9:30 a.m., with the closure lasting for about two hours as police investigated and cleared the scene.
Community Mobilization/Safety Officer at the Sioux Lookout OPP Detachment, Constable Andrea DeGagne, shared later that day that no critical injuries were reported as a result of the collision.
She added, "We are experiencing winter driving conditions throughout the Municipality. Public Works has done an excellent job maintaining the roads and sidewalks throughout the municipality, but drivers need to be aware of the ever-changing road conditions and ensure they are driving appropriately."